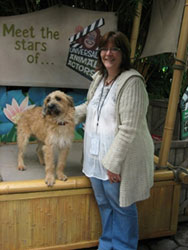 Dr. Beth Taylor
Dr. Taylor graduated from the University of California, Davis School of Veterinary Medicine in 1995. She earned her undergraduate degree from San Jose State University in 1983 where she graduated Magna Cum Laude with a Bachelor of Arts degree in Psychology with minors in Chemistry and Biology.
She sees her role as a veterinarian as one of advisor to pet owners and the patient advocate in making the best decisions possible for the healthcare and treatment of her patients. It is her desire to provide the best care possible with the resources available to patient and owner.
Dr. Taylor purchased Animal Hospital of the Sierra Veterinary Hospital in January 2004. It is her primary objective to serve the needs of her patients, their owners, and the community at large. Her love and compassion for animals and people as well as her devotion to her Lord and Savior Jesus Christ form the basis of her life and work.