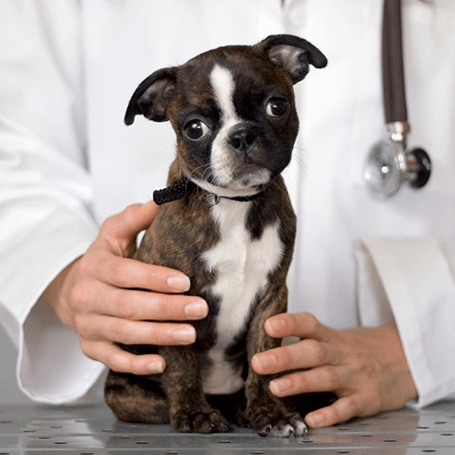 Anesthesia & Patient Monitoring
Before Surgery
Prior to surgery, your pet will undergo a physical examination to assess and minimize the risk of anesthesia. Your pet's doctor may recommend many of the same tests that a person may have prior to anesthesia, such as blood-work, radiographs, and an ECG. To ensure your pet can properly process and eliminate an anesthetic agent, we run pre-anesthetic blood-work. This confirms that your pet's organs are functioning properly and helps detect possible hidden health conditions that could put your pet at risk.  We are especially concerned with the health of the liver and kidneys as these organs help the body metabolize and excrete the medications used during anesthesia. We require this blood-work for pets seven years of age and older to help ensure the safety of your pet. After careful examination of the patient, their medical history, and the laboratory results, an anesthetic protocol is prepared for each individual pet.
Reasons for pre-anesthesia blood-work screening:
Enjoy peace of mind – Pre-anesthetic testing can significantly reduce anesthetic and surgical risk.
Detect hidden illness – Seemingly healthy pets can be hiding signs of disease or ailment. Testing helps detect this kind of illness so we can avoid problems with anesthesia.
Reduce risks and consequences – If pre-anesthetic testing results are normal, we can proceed with confidence. If not, we can alter the anesthetic procedure or take other precautions to safeguard your pet's health.
Protect your pet's future health- These tests become part of your pet's medical record, providing a baseline for future reference.
We ask owners to remove all food and water after midnight the night before the procedure. Fasting reduces the risk of regurgitation and aspiration during surgery.
Hospitalization and Surgical Information
Preparation— Prior to the procedure, your pet receives a pain injection to minimize any discomfort that might be experienced from surgery. The skin around the surgical area will be clipped, then scrubbed with an antiseptic. We follow sterile procedures. Surgical preparation, surgical packs, and surgical attire are sterilized for the health and safety of each patient.
Catheterization—For most surgical procedures, an intravenous catheter is placed to provide us with an easy route to administer medications and fluids (which support kidney function and blood pressure) during the procedure. An IV catheter and fluids prevent hypo-tension and provide a portal for emergency drugs if needed.
Intubation– Once the patient is under anesthesia, a tube is placed in the trachea to allow the administration of oxygen and the anesthetic agent.
Monitoring—All surgery patients at Animal Hospital of the Sierra are closely monitored with state of the art equipment. We further minimize anesthetic risk by monitoring and recording the patient's temperature, heart rate and rhythm, respiration rate, and quality, blood pressure, oxygenation, carbon dioxide and depth of anesthesia. These technologies, along with pre-anesthetic screening, reduce the risk of anesthesia to its lowest level.
Pain Management—We proactively manage pain associated with any procedure with appropriate pain management medications. We choose medications that manage intraoperative and postoperative pain. Because there is variability in patient response, we individually tailor the medication type, dose, and frequency based on the intensity and duration of pain associated with each procedure. Pain management may include non-steroidal anti-inflammatory medications, as well as local and regional nerve blocks.
After Surgery Each patient is monitored closely for signs of post-operative pain, and treated as required. Post-surgical care includes frequent walks, blanket changes and TLC from our staff. We contact you after surgery to update you on your pet. At this time we set up a discharge appointment. At this appointment, a technician goes over any medications the pet may be sent home with, as well as post-surgical home care instructions.